SHORT BIO FOR BARRY WEBB

Barry Webb has logged a 25-year career as an Arabic Translator/Analyst for the National Security Agency and other intelligence agencies where he held top secret and above clearances. He has worked military intelligence, counter terrorism, diplomatic intelligence, and economic intelligence in both sigint and osint formats and has lived, worked, and studied in the Arab Middle East for half a dozen years. Along with two colleagues he compiled the nation's first terrorism data base. He has two MA degrees, one in Ancient History, and the other in Middle Eastern Studies. He has also taught some school along the way. Mr. Webb began studying the Qur'an in Arabic in the mid-70s in Egypt from a Muslim who tried (and failed) to convert him. But, since then Mr. Webb has continued to study the Qur'an and Islam. He has read the Qur'an front to back numerous times in both English and Arabic. After retiring he has continued to follow the rise in terrorism around the world, and kept his eye on events in the Middle East via Arabic news sources such as the satellite TV stations of al-Jazeera and al-Arabiyya as well as Arabic print media over the internet. In addition, he has also read countless books and articles in English on Islam and terrorism. All of these experiences and studies combined with our government's refusal at all levels to understand the issue have scared the "you-know-what" out of him which in turn inspired him to write his recently published book "CONFESSIONS OF AN (EX) NSA SPY: Why America and its allies are losing the war on Terror," and his soon to-be-published book "CLASH OF CIVILIZATIONS 2.0: The Arab/Islamic View."
LONG BIO FOR BARRY WEBB

Barry Webb has had a life-long interest in things ancient since he was first introduced to dinosaurs at age eight. At about the same time Jack London's wonderful novella BEFORE ADAM appeared on the fourth grade classroom bookshelf to hijack his imagination and he has never been the same since. The remainder of his grade school years were spent devouring everything "ancient" he could get his hands on from Alley Oop comic books to Encyclopedia articles.
After the hormone-induced intellectual black hole called adolescence, he emerged in college with a burning interest in things Greek, Roman, and Biblical. This interest was stimulated by a flood of movies and novels on those topics that came out in the late fifties and sixties, such as the Mika Waltari novels, James Michener's THE SOURCE, the Steve Reeves Greco-Roman Swords and Sandals epics, Quo Vadis, Ben Hur, and the real 300 Spartans, etc.
As a result of these irrepressible desires for things ancient, he changed his major midway through college from music to history. Upon graduation from college he taught World History at the high school level which forced him to become a story-teller (as if he wasn't already). Human nature has always been what it is, and he taught his students that History is made by people doing stupid, hilarious, awful, and wonderful things to each other and to themselves as they tried to achieve their goals, both good and bad. Behind every event and personage in history there is a story--or several. Somehow he knew back then that when all was said and done, he was going to be a writer of historical fiction dealing with ancient times and/or thriller/adventure stories with an historical twist.
After four-years of teaching High School Social Studies, the author fulfilled his military obligation (yes, they had the draft back then) by becoming a trumpeter in the U.S. Army Band system. Since then he has picked up two MA degrees, one in Ancient History and the other in Near Eastern Studies, began studying the Qur'an, in Egypt, in Arabic, and pursued a career as an Arabic translator and language analyst for the NSA and other government agencies. In the process he has lived, worked, and studied in the Middle East for a number of years. In addition to Arabic, the author has also studied Biblical Hebrew and Akkadian cuneiform, as well as smatterings of other related ancient languages.
During his spare time, while living in the D.C. area, he studied fiction-writing techniques at The Writer's Center in Bethesda, Maryland experimenting in a variety of genres and with a variety of POVs and story-telling techniques.
The author currently lives in Arizona where he is engaged in writing, and speaking, about current events, politics, and the Middle East, both ancient and modern.
Some of the author's other interests, besides writing, the Middle East, and things ancient, include weight training, hiking, traveling, classical symphonies, Big Band music (Ted Heath lives), College Football, and Mexican food.
Other "Webb" sites owned and operated by the author are:
http://www.biblebabel.netFor indepth discussion on intriguing facts pertaining to Biblical and Ancient Near Eastern history: http://www.biblebabel.netis guaranteed to kill most of your sacred cows and challenge your basic beliefs--what ever those beliefs may be.
See also: www.nsaconfessions.com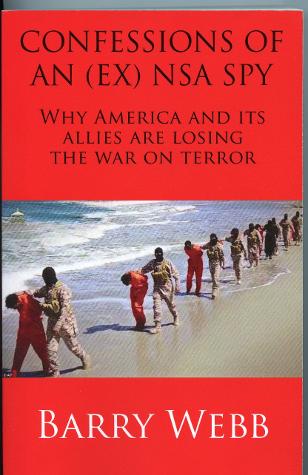 To purchase: The glossy trade paperback version is available for sale only via personal appearances by the author.
The kindle version is available on
www.amazon.com
for $5.99.
The nook version is also available for $5.99 at
www.barnesandnoble.com
What are the long-term historical laws and trends that tell us the West is doomed?

Why is "Climate Change" not a national security issue, but the hysteria over it is?

What intelligence failures, if any, led to 9/11, the Boston Marathon bombing, San Bernadino, and other terrorist acts on our soil?

Why did we turn Iraq over to Iran?

Why did we go into Iraq in the first place?

Did we create ISIS? If so, why?

Why do virtually all Middle Easterners across the board think that the U.S. is a major sponsor of terrorism?

Is Islam truly a "religion of peace?"

Why does Washington exert such Herculean efforts to misunderstand these issues?

What are the Islamic prophecies driving recruitment for groups like ISIS and al-Qaeda?

Why driving ISIS from the battlefields of the Middle East will not be the end of the war on terror, no matter what out government says.

All of these issues and much more are discussed in this, the only counter-terrorism book on the planet that pulls it all together and connects all the dots.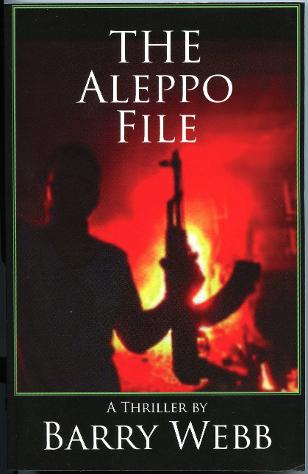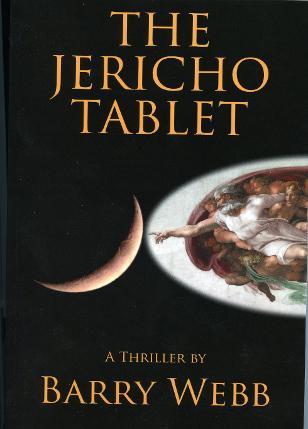 BACK FLAP for "THE ALEPPO FILE"
Faced with cratering poll numbers, a U.S. president agrees to a plot having Islamic radicals kidnap an ambassador so he can "negotiate" his release in turn for the "Blind Shaykh," currently in prison for the 1993 World Trade Center bombing. The president hopes that the Blind Shaykh's return to Egypt will strengthen the hand of the Muslim Brotherhood to corral Islam's more radical terrorist groups and unite all Sunni Muslims with Turkey in a resurrected Ottoman Empire aimed at keeping the Russian bear caged. But when the kidnap operation falls apart and four Americans are killed at the U.S. consulate in Aleppo, the administration goes into full cover-up mode. Only undercover agent Matt Nolan knows the full truth of what happened in Aleppo--placing him number one on the Administration's enemies list. As Russia threatens war over the Ottoman Empire plot, Matt has to dodge numerous assassination attempts in his desperate effort to return to the U.S. to testify before Congress, put a stop to the Ottoman Empire plot, and defuse WWIII.
Kindle version: www.amazon.com

Nook versions is also available

What reviewers are saying about The Jericho Tablet:
Highly original thriller by author with richly relevant background
This thriller has movie written all over it. An ancient tablet is discovered that undercuts the foundations of both Christianity and Islam. That in itself is a gripping and original idea: imagine such a discovery in today's world, which in fact is the story's setting. But there's more. The tablet gives instructions for reawakening an older, vengeful god, who offers all humanity a kind of Faustian bargain: live forever, in peace, enjoying vast knowledge--but only in return for unquestioning devotion and surrender of free will. This "god" is an artifact buried on the moon by ancient space travelers.

The Jericho Tablet does what a thriller is supposed to do, which in my view is: (1) keep you up all night reading, and then (2) keep you trying to mind-cast the movie.
Janis Weisbrot, copy editor for Seven Stories Press
The Jericho Tablet is a fast-paced novel that is a genuine page-turner. The author uses his extensive background in archaeology, languages, Middle East cultures, and the NSA to tell a contemporary (although set in 2020) and original story that both entertains and educates. The Jericho Tablet is filled with believable characters and incidents in the USA, Russia, and the Middle East. The ending both surprised and worked for me. The author also deftly interweaves simultaneous events taking place in different locales. The Jericho Tablet has all the ingredients to make a great film.
Donald Michael Platt, former script writer and author of the award-winning novel Rocamora
RECOMMENDED READING!
Government conspiracies, religious fanatics, ancient myths, global intrigue and science fiction spice this thriller. Barry Webb has used his knowledge of ancient history, near eastern culture and US government agencies to write a fast-moving story that is peopled with believable characters. I was caught up immediately and stayed captive until the end. Recommended reading!
Fran Marian, author of Carved in Stone and The Rug Broker
"This is one Exciting Read. The Jericho Tablet is a thriller that has many parallels and similarities between our present world and what could very well happen in the future. Rich in history and understanding of the Middle Eastern mind renders this work extremely educational as well. I learned a lot. The tempo never slackens and the author's masterful ability to switch scenes on a global stage while retaining plot continuity at a heated pace keeps the reader wanting more. Like a proverbial "literary box of chocolates," after one or two chapters of this page-turner, I can assure you that you'll be hooked!"
Col. Richard F. "Dick" Brauer Jr. USAF (Ret.) Co-Founder of Special Operations Speaks.

For more information about the book, please visit the book's site at: www.thejerichotablet.com
Kindle and Nook www.barnesandnoble.com versions are available for $2.99.